The best seal for challenging conditions.
Manville's JM Clipper radial oil seals perform better than competitive designs, especially in dirty environments or where shaft and bore conditions are less than ideal. This is achieved by replacement of troublesome metal reinforced casings with a flexible aramid fiber reinforced composite casing.
As an added benefit, this hard yet resilient casing simplifies installation by allowing the installer to easily tap the seal into place with a mallet. Try this with a traditional metal cased seal and you risk permanently damaging the seal, which is the reason many metal cased seals require special installation tools and procedures. A switch to Manville's JM Clipper seals will save you time and money by reducing downtime, speeding repairs and reducing housekeeping requirements by sealing where other seals have leaked.
Manville offers our unique non-steel cased seals in thousands of sizes to fit virtually all typical oil seal, grease seal and dust seal applications. We also offer cross-referenced drop in replacements for many OEM and major competitors' seals.
Manville's line of Clipper Oil Seals offer a unique non-metallic outer casing for easier installation and improved sealing. LUP LPD, RUP RPD LUPW LPDW RUPW RPDW SSW and other styles. RUP RPD styles can be supplied split for installation without equipment disassembly.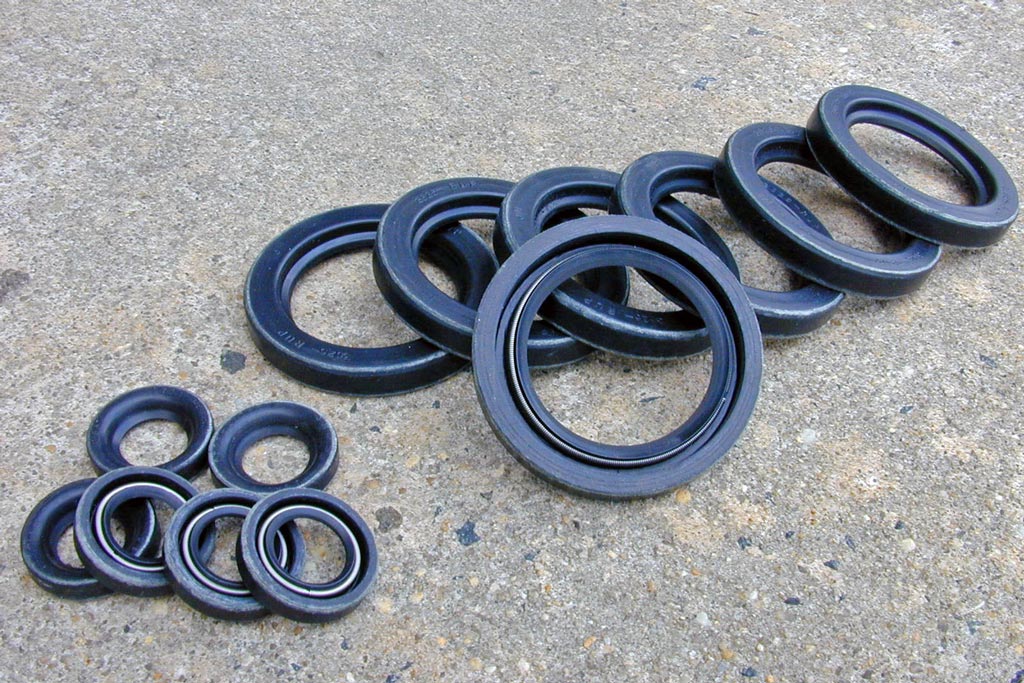 Advantages of Manville JM Clipper Oil Seals
Tolerate rough bore finishes while accommodating a wide range of bore tolerances

Flexible outer diameter acts as a gasket virtually eliminating the possibility of leakage through the seal itself

Totally non-corroding in storage and service

Easy to remove and install with no special tools or skills

Available in over 5,000 pre-split sizes for instant installation without equipment disassembly

Interchangeable with most brands
JM Clipper oil seals are available in the following unique construction styles to suit most applications:
Standard Design Types

Cross Section

Application

LUP

General Purpose

Thru 3200 F.P.M. (976)

5/8"-60" (16-1524)

LPD Without Spring Retainer

General Purpose

Thru 3200 F.P.M. (976)

5/8"-60" (16-1524)

LPD Without Spring Retainer

General Purpose

Thru 3200 F.P.M. (976)

5/8"-60" (16-1524)

MIST

Heavy Duty Steel Mill Roll Neck Bearing Service. Steel bands offer greater retention in the bore. Molded in spring eliminates spring dumping.

Thru 3200 F.P.M. (976)

5"-50" (127-1270)

RUP

General Purpose. Split design.

Thru 2000 F.P.M. (610)

1 5/16"-60" (33-1524)

RPD

General Purpose. Split design.

Thru 2000 F.P.M. (610)

1 5/16"-60" (33-1524)

SS

General Purpose. Springless for small flange dimensions.

Thru 2000 F.P.M. (610)

1/4"-6" (6-152)

ST-LUP

Heavy Duty Steel Mill Roll Neck Bearing Service. Steel bands offer greater retention in the bore

Thru 3200 F.P.M. (976)

5"-50" (127-1270)

ST-LPD

Heavy Duty Steel Mill Roll Neck Bearing Service. Steel bands offer greater retention in the bore

Thru 3200 F.P.M. (976)

5"-50" (127-1270)

OL

Outside lip design.

Thru 1000 F.P.M. (306)

5/8"-50" (16-1270)

LDS

General purpose, dual lip used against fluid & dust conditions

Thru 2500 F.P.M. (762)

3/4"-25" (19-635)

SDS

General Purpose. Dual lip springless for small shaft sizes.

Thru 2000 F.P.M. (610)

3/4"-25" (19-635)

LUPW

Oscillating or angular movement at low surface speed.

Thru 1000 F.P.M. (306)

1 5/8"-50" (41-1270)

LPDW

Oscillating or angular movement at low surface speed.

Thru 1000 F.P.M . (306)

1 5/8"-50" (41.1270)

P

Shallow Cavity Rod Wiper for reciprocating service.

Thru 300 F.P.M . (92) Reciprocating.

3/8"-30" (10-762)

H

General Purpose Rod Wiper Seal for rotary or reciprocating service.

Thru 2000 F.P.M. (610) Rotary. Thru 300 F.P.M. (92) Reciprocating.

3/8"-30" (10-762)

DS

Baffle or Deflector.

Thru 2500 F.P.M. (762)

3/4"-15" (19-381)

SSW

Face Sealing Excluder.

Thru 2500 F.P.M. (762)

1"-25" (25-635)

RPDT

All compound-split seal with tempered heel.

Thru 2000 F.P.M. (762)

1 5/16"-30" (33-762)